Design and creation of tools
Home > Our business > Design and creation of tools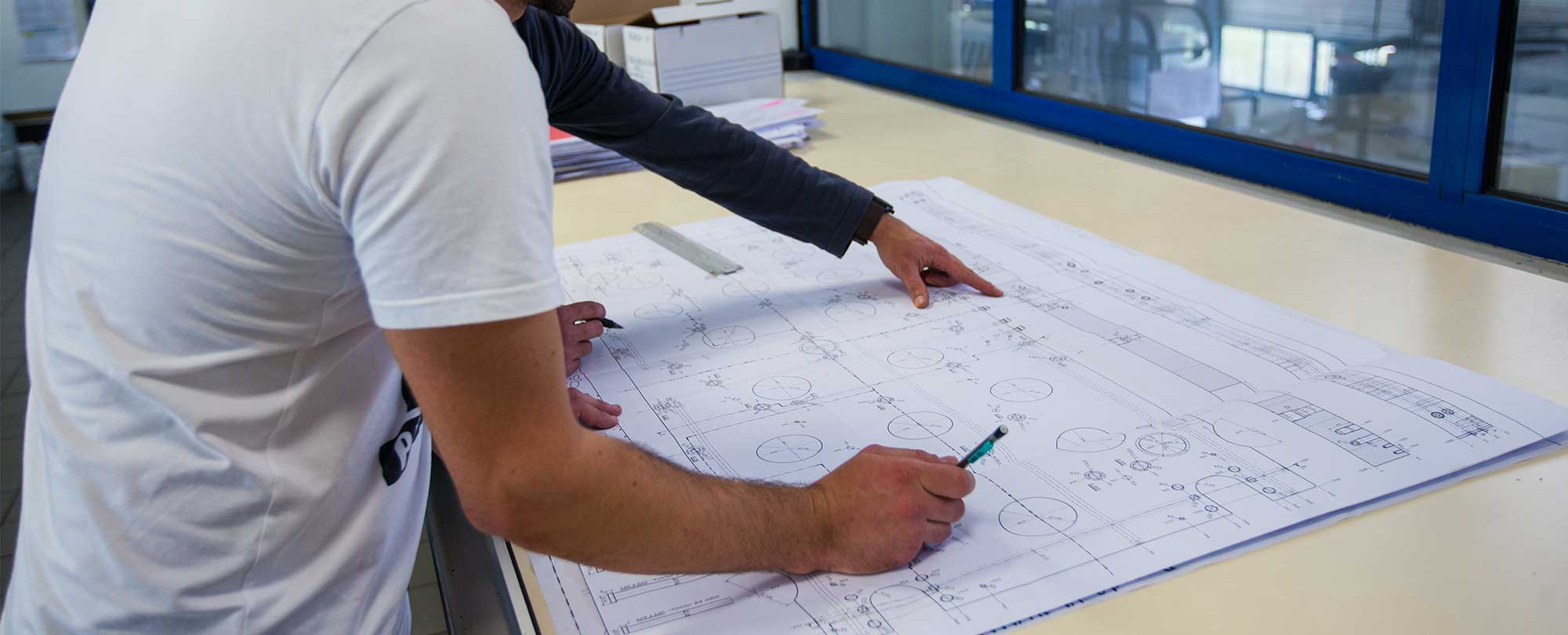 We have
R&D projects
with our customers
(converters, equipment manufacturers, automobile manufacturers)
to
bring added value
to their product. Moreover, we are members of the
CT-IPC
(Industrial Technical Center for Plastics and Composites in Oyonnax-FR(01) )
.
How is a project executed at DMM/CLM?
Customer idea, commercial and technical awareness, responsibility for implementation)
Our moulds are built for the transformation technology for which they are intended, and designed in accordance with our production resources. We contribute all of
our added value
:
So that the criteria of ease of use and interchangeability of elements during the life of the tool are taken into account,
So that the moulds are suited to your needs,
To integrate the layouts imposed by technical and economic market constraints, in consultation and collaboration with your services.
Management of the project/client by Methods
During our collaboration, our customers maintain a
privileged relationship
with our Methods department. Management of the project by a
single contact
ensures both
proximity and reactivity
. This person provides
regular updates
on the status of the project. During the development phase, we also offer you the following services:
Design or adjustments to parts,
Digitising of complex forms,
Mould Flow Analyses,
Thermal Analyses,
Structural design calculations,
Integration of moulds parts using ""conformal cooling" technology.
Project studies by the internal design office in relation with the client
Managed by the project head, a study is done internally by the design office. We use various software packages, including:
CATIA V5 / V6,
PRO ENGINEER,
TOPSOLID,
TEBIS,
WORKNC,
Scheduling
A scheduling service is responsible for respect of delivery timeframes. In collaboration with the project head from the methods department, this service organises the production activities.
Production
For
better productivity
, we have implemented a weekend team, in addition to the traditional organisation, which is a daily shift.
Our production capacity: 10 000 h/month
Our production floor surface: 3 500 m2
Inspection before trial
For the purpose of guaranteeing optimal quality and service, we systematically integrate "double verification" into the fabrication process for our metallic moulds. This double verification is done before trials, and is carried out by a neutral project head (not having been involved up to that point). Depending on the specifications established, we also perform a dimensional inspection impression.
Trials
Our companies also offer to
conduct the trials for moulds
, through several solutions. At the customer site, or depending on the
technologies implemented
:
INJECTION: at the CT-IPC on injection moulding presses of 140T to 2200T. Delivery of a testing report (possibility of providing: photos and video, depending on the terms of the contract).
EXTRUSION BLOW MOULDING: under subcontracting on large-capacity machines in the region of OYONNAX (01).
SMC COMPOSITES: possibility of trials at our site, on press of 500T of clamping force (validation beforehand).
Delivery
Our logistical solutions are suited to the volumes and weights of the tools that we manufacture.